Model 2 - SeamSAFE Roof Anchor
Price: $279.00 each with FREE Shipping
The Model 2 SeamSAFE roof anchor is designed to accommodate standing seam metal roofs with a seam height of up to 1.25 inches and a maximum seam width of 1 inch. The anchor is 12 inches in length.
Made in the USA, SeamSAFE anchor blocks are machined from solid 6061-T aircraft aluminum. They are held together by half-inch, grade-8 shank bolts. The quarter-inch, solid, stainless-steel "D" ring can be secured to any tethering device and harness on the market.
The Model 2 SeamSAFE roof anchor functions by loosening the nuts, separating the blocks, and fitting them over a single standing seam. It is quickly installed with a 3/4-inch, box-end wrench and easily repositioned as the roofer works. Click here for SeamSAFE Installation Instructions. The anchor can be transported to a roof hands-free by being clipped to the roofer's belt using a clip provided with the anchor.
Shipping, Warranty and Returns
FREE SHIPPING is provided in the continental U.S. Orders placed by 1:00pm ET will ship the same day. Orders placed after 1:00pm ET will ship the following business day. Click here for SeamSAFE's Warranty & Return Policy.
Questions
If you have questions, contact SeamSAFE Founder Doug Mullins at 855-263-1521 or email us here.
If you are a distributor or reseller of building or safety products and are interested in adding SeamSAFE to your product line, visit our reseller information page.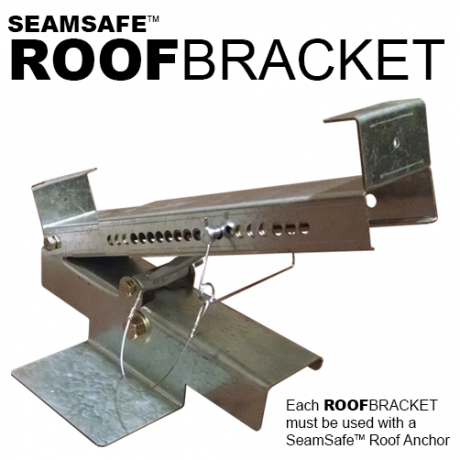 Add the ROOF BRACKET to your order:
Quantity: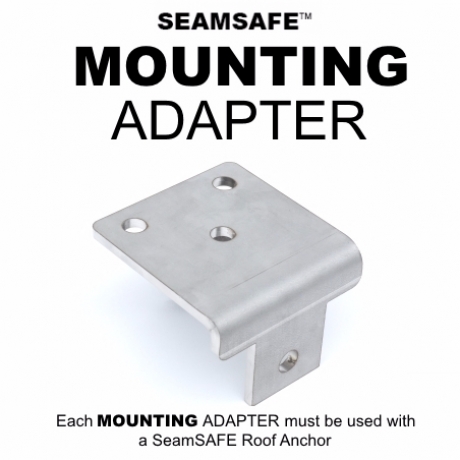 Add SeamSAFE Mounting Adapters for Attaching Rooftop Equipment:
Quantity: