SeamSAFE Standing Seam Roof Anchors, Brackets and Mounting Adapters
The New Standard for Metal Roofing Safety and Versatility
Advanced design and expert engineering makes SeamSAFE Roof Anchors the superior choice for fall-arrest protection for anyone working on a standing seam metal roof. SeamSAFE anchors protect roofers with the most secure and largest gripping surface of any anchor in the industry. They are certified to support up to 10,500 pounds.
Installation takes a minute or less and only requires a single wrench. Repositioning is fast and easy. Once a SeamSAFE anchor is properly secured to a metal roof seam and tethered to a roofer's belt or harness, the anchor prevents falls.
In addition, SeamSAFE anchors can be paired with SeamSAFE Roof Brackets to offer flexibility throughout a roofing project. The brackets provide a means to mount a walkboard for roofers to use during installations and repairs. SeamSAFE brackets also can be used to create a rooftop staging area for gear and materials.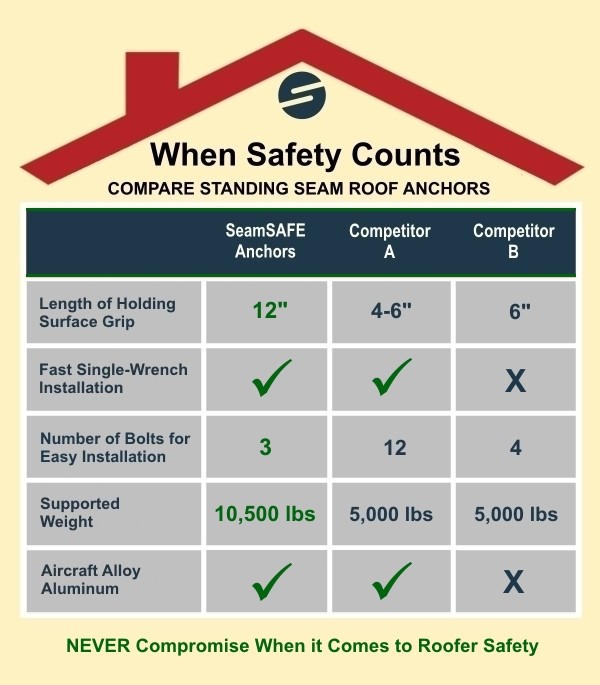 Doug Mullins
SeamSAFE Founder
With forty years in the roofing industry, the SeamSAFE founder is intensely aware of the hazards and safety concerns of installing and repairing roofs. Doug knows first-hand that roofing professionals face among the highest risk of falls and fatalities in the construction industry, which is data reported by the Center for Construction Research and Training.
A number of years ago, a significant fall during a metal roof installation almost took his life. This dangerous plunge inspired him to develop a superior, easy-to-use product that keeps roofers safe by stopping the risk of falls when working on standing seam metal roofs.
With extensive research, design trials and field testing at Virginia Tech University in Blacksburg, Virginia, Doug patented and introduced SeamSAFE roof anchors, which set a new standard for roofing safety and versatility. To learn more, click here: SeamSAFE Anchors and Brackets.
Why trust fall protection to anyone else?
SeamSAFE roof anchors have been rigorously tested for performance and safety. They meet or exceed OSHA and ANSI standards.
Multiple anchor sizes are available to accommodate nearly every standing seam metal roof. We also make custom anchors to meet your specific requirements. Our expert technicians are available to talk with you about your specific needs and help you select the correct anchor size for your roofing profiles.
It is important to note that other manufacturers have tried to replicate the look and function of our patented anchors. Yet, SeamSAFE's quality, design integrity and safety protection is unsurpassed.